10 things that won't kill you to know about Christine
Stephen King ta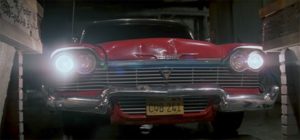 ught us some important lessons as he ascended the throne and took his rightful place as America's most prolific author of horror and supernatural fiction. You know, things like: don't play any pranks on Carrie, never stay at The Shining's Overlook Hotel ("Here's Johnny!"), and for goodness' sake, tread lightly when dealing with a 1958 Plymouth Fury named Christine.
King takes the classic tale of boy meets girl to frightening heights when a geeky teenager named Arnie falls head over heels in love with a red Plymouth Fury with a sketchy past. Christine falls hard for Arnie, too, which would be roses if it weren't for one tiny detail: the car is a killing machine with a long memory and a short fuse. Moral of the story: Never underestimate the fury of a Fury that just… won't… die.
As we hand out Halloween candy to all the miniature ghosts and goblins out there, here's a little something for the big kids – 10 things you may not know about the original Christine movie.